Sei is a tall woman with a long blue jacket and has her hair in a bun. Sei is the leader of the mercenary group that is composed of Jo, Meg, Amy, Tachibana Kyohei, and Leo Jinno. Sei is part of Bai Lan, also known as White Orchid Clan, which was run by her grandfather and other clan members. Sei was the person that recruited Jo and Meg from New York, and Amy from her own country.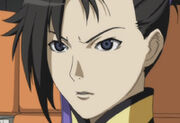 Background
Edit
Sei's grandfather is the leader of White Orchid Clan. Sei herself runs the mercenary group as a offshoot of the clan. She would bring the group to some of the clan's parties.
Ad blocker interference detected!
Wikia is a free-to-use site that makes money from advertising. We have a modified experience for viewers using ad blockers

Wikia is not accessible if you've made further modifications. Remove the custom ad blocker rule(s) and the page will load as expected.