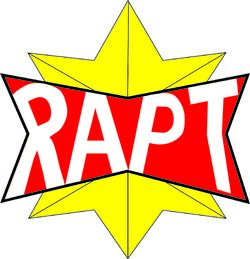 RAPT was created because of the law that allows ordinary people to freely carry firearms. RAPT stands for Recent Armed Police of Tokyo and was created by the Zero Organization with support by the prefectural governor. RAPT is a front for illegal genetic research and development of mutants.
Glenford is the leader of the Zero Organization and RAPT and is responsible for the creation of the Genocide Angels and Jo, Maria, and Lava. They have their own transport vehicles such as the RAPT Police car. The RAPT has multiple cybots that are used to maintain order in the streets of Tokyo. Some of their cybots include the Strike Toad, Flight Sharkey, and Rat Man.
RAPT's main office is in the Kabuki-cho section of Shinjuku. Roughly in area where a theater, the central office of the armed police agency now dominates the landscape.